As Taiwan has lifted border restrictions, colleges and universities start to facilitate international exchange. ISU has resumed offline exchange this year by not only receiving visits and collaboration opportunities from overseas universities but also sending students overseas for internships. Students of the Department of Creative Product Design under the College of Communication and Design experienced an overseas life for one month in Tokyo, Kyoto, and Nagaokakyo City in Japan and came back with great takeaways.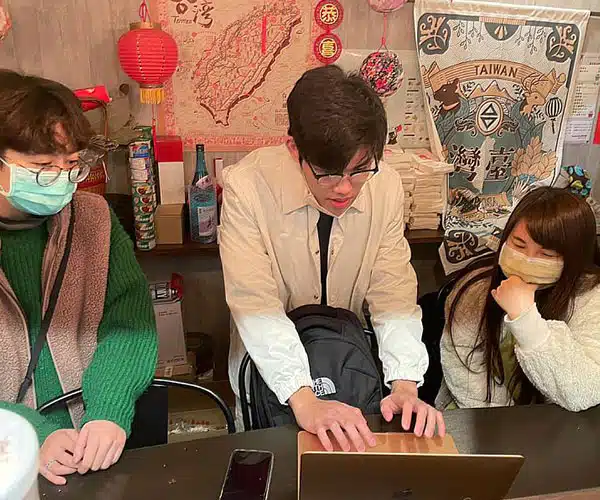 The Department of Creative Product Design at ISU places great emphasis on providing opportunities for students to engage in overseas exchanges, with the goal of allowing students to experience different facets of the world and nourish their creative inspiration. Ching-Hua Ou, a junior student in the Department of Creative Product Design who received a scholarship from the Ministry of Education for studying abroad, went to KISSYOUTEN restaurant in Tokyo, where she was responsible for designing merchandise. What impressed her the most was that the restaurant owner was also from Taiwan. Consequently, he believed that all Taiwanese interns should consider themselves locals in order to truly experience the local culture, learn its essence, and subsequently design merchandise that embodies the spirit of the locale. Ou highly values the opportunity to undertake overseas internships, believing that by immersing herself in international experiences, she not only broadens her horizons but also gains exposure to different cultural styles. Every small aspect of learning along the way contributes to the achievement of creative success.
Jia-Zhen Hu and Xiang-Ying Yu, both sophomores in the Department of Creative Product Design, participated in internships at two different divisions of 京都耀來企業, namely Tousatsukikoubou and Remake Design, where they worked with traditional Japanese pottery and kimono remake, respectively. The internships in these two different fields left a deep impression on Hu and Yu. They noted that in addition to learning professional design during the internship, they came to appreciate the Japanese emphasis on taste through daily interactions. For instance, the farewell party prepared by the internship provider was not only exquisitely presented in terms of the dishes and tableware used but also reflects the concept of lifestyle aesthetics. Hu and Yu were subconsciously influenced by this environment and learned to cultivate their taste in life, which naturally found its way into their creative works. Such experiences are especially important for young people studying art and design, providing valuable nourishment and inspiration.
Studying abroad or participating in overseas internships can help expand one's horizons and enhance professional abilities. Through the scholarships provided by the Ministry of Education, ISU students have the opportunity to engage with companies from all over the world and exchange ideas. During their overseas internships in Japan, they have the chance to learn firsthand from Japanese craftspeople and designers about the spirit of craftsmanship and develop a meticulous attitude toward their work. ISU actively creates opportunities for international exchange and encourages students to explore the world and pursue their dreams. After all, youngsters are supposed to make the best of their time to broaden their horizons and expand their perspectives.